 Shrinking review: Everlasting love
Jason Segel and Harrison Ford team up for a surprisingly charming comedy about flawed (but loveable) therapists.
Words by Jan Tracz
The sudden bursts of laughter are intermingled with drops of sorrowful tears in this tragicomic tale of a man who has just lost his wife – it sounds like a description of Ricky Gervais' After Life, but this time we are talking about one of the newest comedy dramas from Apple's streaming platform. Shrinking is another modern take on a middle-aged father's grief and a stirring portrayal of how he is coping with it. There is some serious soul-searching, some accepting-your-own-life mantra and some ruthless black humour – what else do you need to be thoroughly entertained?
Jason Segel plays Jimmy Lair, a talented therapist who deals with a loss: his wife died in a car accident a year ago. Her death is indelible for him – just like Gervais' Tony Johnson, Jimmy cannot understand why it happened in the first place. Besides, he asks himself a few burdensome questions: did she really love him at the end of their relationship? Was their final conversation, actually, a quarrel? Jimmy feels hapless and his overthinking is a source of both dramatic and comedic inserts for Shrinking's episodes. It is all about the acts that most devastated people will do to soothe their souls, acts that defy all logic.
At times, Jimmy impugns the sense of living without his other half and starts acting like the worst person in the world (to paraphrase Joachim Trier's superb romantic comedy-drama). In other moments, his resentment affects his patients, so you can just imagine what can happen when a psychologist – who needs his own therapy – starts giving some not-so-practical counsel.
While Segel proposes to us his interpretation of Jimmy's mental pratfalls (he shouts like a psycho, deals with outbursts of anger and sadness in public places and has such a short temper), he inadvertently becomes Marshall from How I Met Your Mother. Presumably, it is the script that could be culpable for Segel's acting repetition, as both gentlemen got slightly similar character tropes. But there is no harm in it – Segel's appealing charisma is so evocative that the resemblance to his most famous role is rather irresistible.
When it comes to Harrison Ford, he becomes the opposite of Segel's pleasant hero. Paul Rhoades is a sure-footed senior therapist (and Jimmy's boss), a rather cantankerous figure; always right about his professional claims, always belligerent when someone criticizes him. Even so, as we know from real life, such a stonehearted figure has to reveal his real nature in the longer run – and yes, in Shrinking, Paul is dealing with Parkinson's disease, which forces him to re-evaluate his entire life.
Ford proves that he can do comedy – he smartly uses his grumpy demeanour to make us laugh at every possible moment. What's more, there is something stylish in his manner. It's proof of the impression that Harrison Ford is just like a fine wine; the older, the better. In every scene, Paul wears dapper sweaters and classy shirts – when we watch him, we watch him. Even an "f word" sounds like poetry from his mouth. Believe it or not, it is often expressed so elegantly and smartly.
Shrinking is also about supporting characters who would have been able to steal the whole show if the script only allowed them to. Its roster of cast standouts is impressive: Christa Miller stars as Christy, Jimmy's older and avuncular, but troubled neighbour; amiable Lukita Maxwell plays Jimmy's daughter, Alice, who acutely manoeuvres between adolescents' passion and anger; and Jessica Williams becomes Gaby, a fellow therapist whose character is so rich that she will quickly become a fan favourite character. The desire for strong and independent woman heroines has never been more vital than now, but – as a plethora of shows missed their opportunities – the need has not yet been fulfilled. It's an upsetting contention, but Shrinking makes us (finally) believe in self-determined women on TV.
There is a sense of a well-balanced, screenwriting strategy – every character gets his/her adequate screen time and all of them are indispensable for the plot's premise. Are there too many storylines? Not at all. Such a result is rare in modern TV writing. When it comes to the newest productions, Ted Lasso is probably the only show that effortlessly introduces a lot of notable heroes who can be poles apart. Interestingly, even Lasso's Roy Kent (Brett Goldstein) is Shrinking's writer and co-creator and it's not a surprising coincidence – Apple TV+, both series' producer, somewhat unexpectedly became the new dark horse of modern streaming platforms. Go Apple, you're doing it right!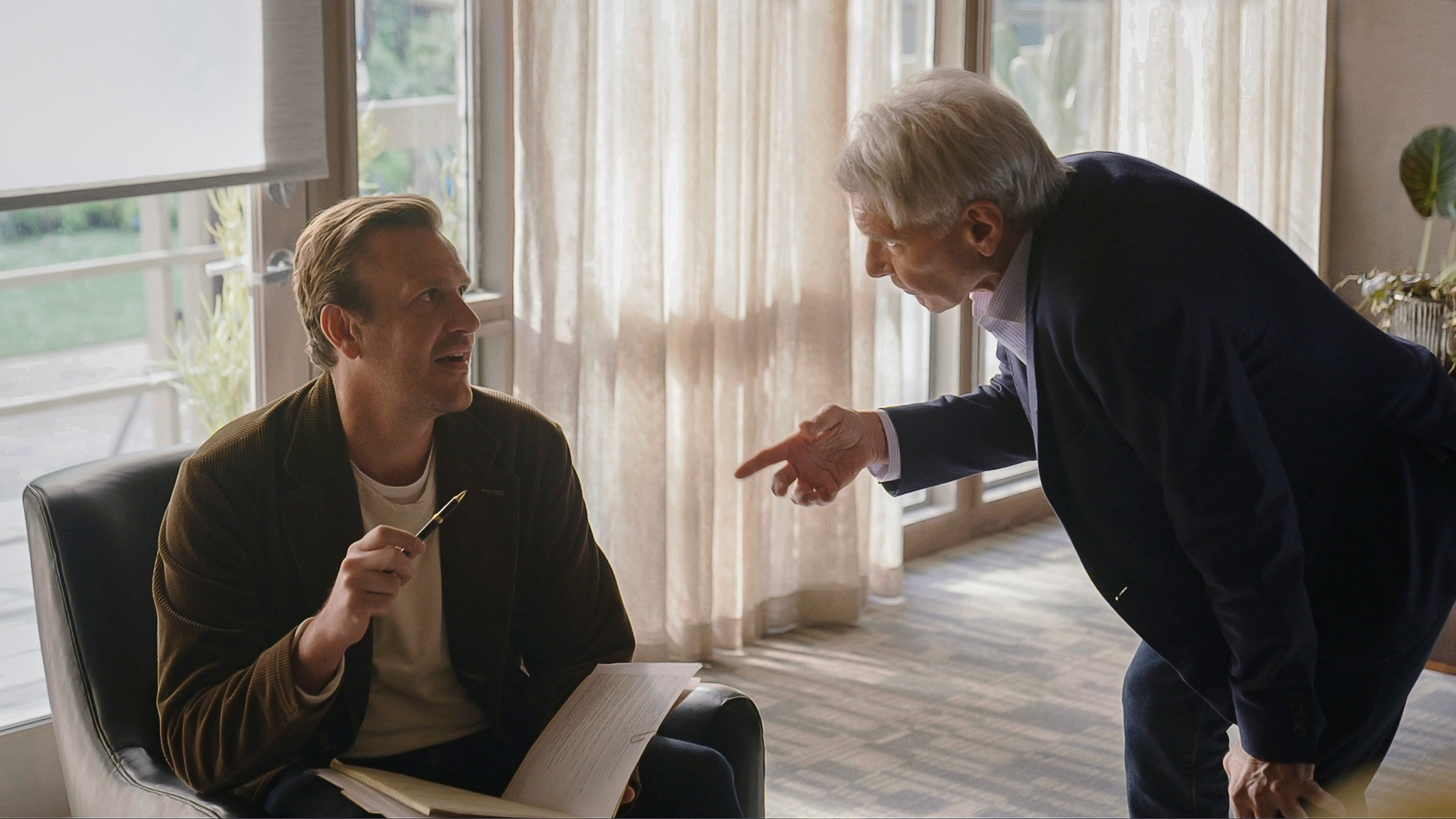 The show's first season is impeccable because the writers responsible for Shrinking understand human relationships and do not treat their beloved characters as NPCs from computer games. They know their needs, cravings or how they will react in troublesome situations – such understanding is precious in terms of incoherent storytelling.
Whether or not Shrinking will lose its genial and absorbing spirit, we must trust the authors' instincts, just like Jimmy places his faith in his friends and attempts a complicated recovery process. Let's hope that echoes of the show's messages of hope will truly be preserved.